Addiction affects people of all ages, sexes, genders, and ethnicities. It does not discriminate between men and women, young and old or rich and poor. And when it does appear, it is equally damaging to health and happiness regardless of whether you are a parent, a college student, a millionaire, or a free spirit. But in each of these different people, addiction manifests itself in different ways. In Laguna Beach, CA, our addiction treatment programs take each individual's story into account during rehab. Healing from addiction requires an understanding of every woman's experience and background and a flexible women's rehab program to meet your needs.
At Oceanfront Recovery, we offer our women's rehab program to cater to the unique trials of women struggling with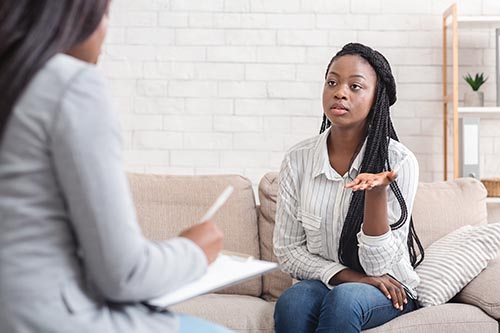 addiction to drugs or alcohol. Women often enter addiction treatment programs with complex stories; many struggles to find rehabilitation programs where they can feel safe or supported by people who understand them. Ignoring the fact that women's lives are filled with concerns that men don't share is a pitfall of treatment centers without specialized support for female clients. The women's rehab program in Laguna Beach, CA, creates a community of women who can work toward healing together as they rebuild trust and strength to overcome addiction in a setting that acknowledges the difficulties of the female experience. With the right addiction therapy program offered across our women's rehab programs, individuals can heal and build up a support community.
How Addiction Affects Women
When it comes to analyzing addiction and substance use statistics, separating the numbers by gender creates a telling story. In general, men are treated for substance use more often than women. Additionally, several categories of abused substances are male-dominated — men are more likely to abuse alcohol and most illicit drugs. Some researchers believe that this leads to a lack of addiction treatment that is geared toward women.
But women show higher rates of drinking at an earlier age and may be prone to developing substance abuse disorders more quickly than men. Some studies also indicate that women might be more likely to use drugs and alcohol as a means of self-medicating for mental health concerns like depression or anxiety.
The social pressures faced by women are also far different from those imposed upon men. Young women may be lured into the world of drugs and alcohol by the promise of glamor or money. Mothers who struggle with addiction are often shunned by society, even by friends and family, for neglecting their children's well-being in the face of a disease they cannot control. The media gives us images of female empowerment in women who drink — girl's nights, wine clubs, and women who can "drink a man under the table." Women are also significantly more likely to be victims of abuse or trauma, which studies have shown to be closely linked to the development of a substance use disorder.
Women need their own place in the world of addiction treatment. At Oceanfront Recovery, we believe that it is our responsibility to create an environment that accounts for these differences.
Our Women's Rehab Program Facilities
If deemed appropriate, clients will first undergo a clinically monitored detox period in a co-ed drug and alcohol detox center in Laguna Beach; we will protect your privacy and safety during your time here. Upon entering our women's rehab center, our priority is creating a safe space for our clients — many women in treatment for addiction have been abused physically or emotionally. Providing a place free from stressors and triggers makes it possible to focus on healing fully. Our women's rehab centers provide a separate master suite and bathroom for women in our programs, offering seclusion and privacy while fostering a sense of community between resident women. The residential women's rehab program includes the same amenities as our men's rehab program in Laguna Beach, including a peaceful locale, 24-hour support, modern appliances, and comfortable indoor and outdoor communal spaces.
We also offer outpatient treatment programs for women, including therapy and clinical services. This program may be appropriate for women who have completed a residential treatment program in Laguna Beach or women who cannot commit to full-time care. Outpatient care is provided at our non-residential facility in downtown Laguna Beach, which serves both men and women. All of our outpatient clients are ensured the utmost privacy and discretion during their visits, so you can always feel comfortable seeking care with us.
What We Offer in Our Women's Rehab Program
Our women's rehab programming focuses on the philosophical aspects of addiction and addiction treatment, particularly the mental health component of substance abuse disorders. We also offer specialized trauma support for women whose addictions have arisen from a troubled past. Our experienced team of therapists includes professionals with expertise in women's health and treatment. We aim to heal the wounds that brought on substance abuse and addiction, allowing you to recover with the strength necessary to stay sober for life.
Our one-on-one and group therapy sessions are provided separately for the men and women in our residential programs to encourage openness and honesty without fear of judgment. Family therapy programs in Laguna Beach help rebuild relationships with loved ones affected by addiction behaviors. Our clients also work with gender-specific therapists for a greater sense of connection and understanding. Some of the other addiction treatment therapies we offer include:
Treatment for our men's and women's residential programs are kept separate whenever possible to ensure a productive healing experience. Certain therapies are offered only on a co-ed basis, including equine therapy, acupuncture, and educational lectures. You will be able to work closely with your counselor and our residential staff so that you can always feel safe and comfortable during therapy sessions of any kind.
Discover How Oceanfront Recovery Can Help
Oceanfront Recovery offers high-quality, individualized addiction treatment for men and women at our beautiful locations in Laguna Beach, California. Our residential and outpatient facilities are modern, comfortable, and private, ensuring a recovery experience that allows you to focus on your healing without worry. If you or your loved one is struggling with addiction to drugs or alcohol, seeking help as soon as possible makes a difference. Our team is always here to help you find the resources you need to get treatment and overcome substance abuse through programs like our women's rehab program. Contact Oceanfront Recovery today at (877) 279-1777 to learn more about our programs and determine if the treatment we offer is right for you.
Send us a message to schedule attendance or for more information. Call (877) 279-1777 to rebuild your relationships and life.