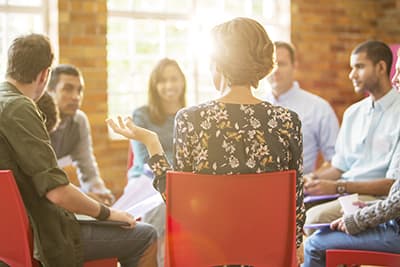 At Oceanfront Recovery, we are fully committed to helping you overcome addiction and reach your recovery goals. Whether you need therapy a few times a week or need to immerse yourself in the full rehab experience, we offer various programs at our addiction rehab center in Laguna Beach. Our dedicated and licensed staff has the training and experience to handle various addictions and mental health disorders.
The step in your recovery is to admit that you need help with your problem. Afterward, you need support and professional care to help you transition from addiction to recovery without relapse. That is where we come in. Let us help you every step of the way as you break the cycle of addiction. Contact our Laguna Beach rehab center to get started with your treatment program today.
Treatment Services We Offer at Our Rehab Center
Treatment services at our Laguna Beach rehab center encompass a broad spectrum of programs designed to meet your specific needs and help you reach your goals. Your treatment program begins with a comprehensive assessment of your condition, which may include identifying any co-occurring disorders or mental health issues.
Detox
Our drug and alcohol detox center is the first step in recovery from drug or alcohol addiction. It is also the point at which you start healing physically and mentally. Detox can be tough. You may experience mild to severe withdrawal symptoms. However, you have the full support and access to 24/7 supervision, emergency care, medication-assisted treatment (MAT), and safe, comfortable facilities. You're in good hands during this difficult stage of recovery.
Evidence-Based Treatment
Evidence-based treatment (EBT) is a science-based form of treatment grounded in extensive research and client observation. It is our primary form of treatment that produces results and promotes long-term recovery. You have access to treatment, such as:
EMDR therapy program
Individual and group therapy
Experiential therapy
Motivational interviewing
Gender-Based Treatment
Regardless of your gender, you need a place where you can feel connected with peers who are also on the path to recovery. You also need an environment where you feel safe and comfortable to talk about your condition. Gender-based treatment gives you a platform to address your addiction without the distraction of another gender. You build solid relationships with others who understand your situation and can provide the appropriate encouragement.
Dual Diagnosis
Co-occurring disorders are common in addiction. If you have both an addiction and a mental health issue, we offer a dual diagnosis treatment program. A treatment specialist can diagnose your condition and provide the appropriate treatment. Common mental health issues associated with addiction include anxiety, depression, PTSD, bipolar disorders, ADHD, or borderline personality disorder.
What Can You Expect at Our Rehab Center?
The purpose of rehab is to help you explore substance abuse causes and find a long-term solution for ending your addiction. This process is both uncomfortable and challenging on almost every level. However, you will quickly discover that there are numerous benefits to alcohol or drug rehab. Your addiction treatment specialist will guide you through detox, rehab, and aftercare, ensuring your success along the way.
Our goal is to match the right treatment with your condition, being sensitive to your needs, and championing your recovery goals. Your therapy will include one-on-one time with your therapist as well as group therapy. You may also participate in holistic treatment or activities such as meditation, nutrition therapy, fitness, yoga, or other care forms.
Contact Laguna Beach Rehab Center for Addiction Treatment
Are you ready to take the next step in your recovery from addiction? If so, contact Oceanfront Recovery at (877) 296-7477. Our Laguna Beach rehab center offers comprehensive care and mental health treatment for all types of conditions. Call us today and get started with your treatment program. We are here to help you get on the road to recovery.