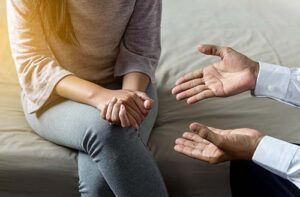 Psychotherapy is a word most people are familiar with. Yet even those familiar with the term would probably struggle with a comprehensive psychotherapy definition. What is psychotherapy? For starters, it is commonly referred to as talk therapy. In a nutshell, psychotherapy is the process of helping people work through mental disorders and their attendant issues through verbal discussion and psychological techniques. Many different techniques and approaches fall under the psychotherapy umbrella.Find high-quality mental health treatment in CA by contacting Oceanfront Recovery at (877) 296-7477. Our psychotherapy in CA is designed to help our clients take control of their mental health and lead brighter, healthier lives.
What Is Psychotherapy?
Psychotherapy is an umbrella term for the means of treating mental health disorders by talking and through the application of different therapeutic techniques. When someone engages in a series of psychotherapy sessions, they receive targeted support in tackling one or more problems that hold them back from a high quality of life.
Psychotherapy can be applied in different ways. No matter the exact implementation, it almost always involves building a therapeutic relationship between therapist and client, creating an active dialogue, and tackling a key problem area of thought or behavior.