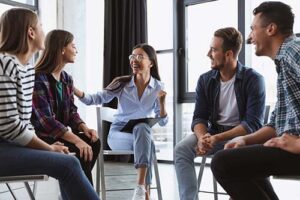 Recovery does not end when treatment is over. In many ways, the journey is just beginning when a person completes treatment. Finishing a round of treatment means you have become an addiction recovery alumnus. Providers like Oceanfront Recovery offer alumni numerous options and ways to stay engaged after treatment through an alumni program. This program offers formal and informal ways for people to connect with others looking to stay sober.
Learn more about admissions to Oceanfront Recovery by contacting (877) 296-7477. We are here to support you on all steps of your journey.
What Is an Alumni Program?
Alumni programs connect people to addiction treatment professionals and others who have completed treatment. Many times, these connections are social events like cookouts, volunteer opportunities, arts and crafts sessions, or outdoor activities like hiking. Other times, alumni programming is focused on tactical recovery services like support groups, which can be offered in person or virtually.
The alumni program at Oceanfront Recovery is all about relationships. We know how critical maintaining positive, sober relationships is for people looking to stay sober. The more supported someone feels, the more likely they are to continue meeting their recovery goals after treatment ends. Alumni programs combat the isolation that many people otherwise experience once they complete treatment. They offer accessible opportunities to engage with peers and the treatment staff they built bonds with.