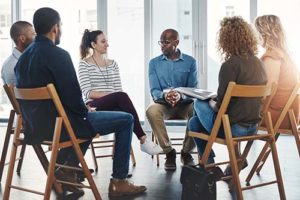 Addiction affects people of all ages, genders, and ethnicities. It does not discriminate between men and women, young and old, or rich and poor. And when it does appear, it is equally damaging to health and happiness regardless of whether you are a parent, a college student, a millionaire, or a free spirit. But in each of these different people, addiction manifests itself in different ways. In Laguna Beach, CA, our addiction treatment programs take each individual's story into account during rehab. Healing from addiction requires an understanding of every person's experience and background and a flexible rehab program to meet your needs.
Our co-ed rehab facility at Oceanfront Recovery offers many comprehensive substance abuse treatment programs, dual diagnosis addiction and mental health treatment programs, and addiction treatment therapies that can be done individually or as part of a group. Some of our programs are single-gendered to create a safe space for men and women to feel comfortable being open and vulnerable. Contact us at (877) 296-7477 to learn more about our facility, the programs we offer, and the individualized care we can provide you.
When Should Someone Consider Rehab?
Deciding to seek help requires a lot of patience and determination. All you have to do is reach out, though. Take into reconsideration these questions; if they seem to fit your situation, now is the time to reach out for help.
Do you find yourself thinking about alcohol or drugs every day?
Have you missed appointments or family engagements because of your use?
Do you feel as though you have to have the substance?
Are you struggling with financial problems?
Do you struggle at work to stay focused?
Have you lost friends and family?
If any of these situations are occurring, reach out to our team at Oceanfront Recovery. Like any disease, addiction requires professional support to heal from. It's highly unlikely that an individual can recover on their own. Even individuals with milder addictions frequently fail to heal without help.
What Can You Expect From Our Co-Ed Rehab Center?
If deemed appropriate, clients will first undergo a clinically monitored detox period in our co-ed drug and alcohol detox center in Laguna Beach; we will protect your privacy and safety during your time here. Upon entering our rehab center, our priority is to create a safe space for our clients. Providing a place free from stressors and triggers makes it possible to focus on healing fully.
During rehab, you'll learn:
More about yourself and why this happened
What you can do to manage stress daily
What triggers you to want to use
How to avoid those triggers
How to rebuild your life and make it better than ever
How to live with addiction
We also offer outpatient treatment programs, including therapy and clinical services. Outpatient care is provided at our non-residential facility in downtown Laguna Beach, which serves both men and women. We understand the ways that addiction affects men and women differently, and we offer programs suitable to the unique challenges each gender faces together and separately when overcoming drug or alcohol addiction and addressing mental health concerns or past trauma. All of our outpatient clients are ensured the utmost privacy and discretion during their visits, so you can always feel comfortable seeking care with us.
Additionally, our rehab center provides a separate master suite and bathroom for women in our programs, offering seclusion and privacy while still fostering a sense of community. The residential rehab program includes a peaceful locale, 24-hour support, modern appliances, and comfortable indoor and outdoor communal spaces.
What We Offer in Our Rehab Programs
When you are ready to see a change in your life and take that first step toward recovery, reach out to our rehab program. The first step is always to listen to you. We will discuss your health, provide a full physical exam, and develop a treatment plan to address your needs. We offer both residential and outpatient treatment programs to meet most needs. For those with a dependency, we may recommend our stand-alone detox program as well. Across all our treatment programs, we offer therapies like:
We also offer holistic treatment options to support your recovery. That includes yoga, Breathworks, and acupuncture. Treatment life can include improving relationships, rebuilding your confidence, and helping you to overcome addiction and enter on the path of long-term recovery.
Explore the opportunities available to you with a center ready to support you.
Break Your Addiction and Begin to Heal at Oceanfront Recovery
If alcohol and drug abuse is taking over your life, make a change today. With support from our team at Oceanfront Recovery, you can enter into a rehab program that gives you the strength, skills, and knowledge you need to improve your future. Contact Oceanfront Recovery to learn more about how our compassionate counselors can help you in our rehab program in Laguna Beach, CA. Call (877) 296-7477 to enroll in an individualized rehab program.