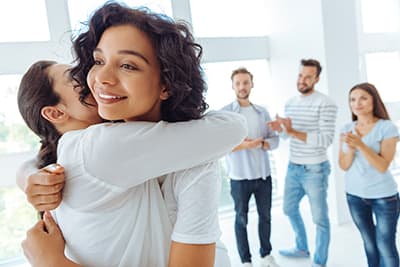 Oceanfront Recovery offers comprehensive treatment for addiction and mental health issues. Regardless of how severe your addiction is, our drug rehab center in Laguna Beach, CA, provides a solution that promotes lifelong recovery without relapse. You have access to detox, rehab, and aftercare programs that can carry you through every stage of recovery.
Our treatment professionals are fully licensed and have the experience to handle any addiction or mental disorder. Whether you need some counseling for a small problem or require on-site 24/7 supervision and care, we are prepared to meet you where you are and help you get on the path to a lasting recovery. Call our drug rehab center to find out more about our addiction treatment therapy program.
Detox: Where Your Recovery Journey Begins
The first step in recovery is detox. During this initial stage, you may experience mild to severe withdrawal symptoms and cravings as your body flushes the toxins out of your system. Common withdrawal symptoms include nausea, vomiting, mood swings, shaking, muscle tightness, and muscle aches. If you have a severe addiction, you may experience high blood pressure, elevated heart rate, seizures, or delirium tremens (alcohol-related).
Our drug and alcohol detox center offers an array of services that help you get through detox. Our primary services include:
24/7 supervision
Emergency medical treatment
Fully licensed medical staff
Medication-assisted treatment
Safe, comfortable facilities
You can feel confident that you are in good hands while going through detox.
Our Drug Rehab Center: Your Recovery Journey Continues
Once you complete your detox, you will be ready for rehab. We offer two levels of addiction treatment: residential treatment and intensive outpatient treatment.
Residential Treatment: If you feel that you cannot manage your addiction, you may want to consider our residential treatment program. This is an on-site program at our drug rehab center. You receive full supervision and support while you are in rehab. You also have full access to all our amenities, facilities, and treatments. Executive programs are also available if you need private treatment.
Intensive Outpatient Treatment: Intensive outpatient treatment (IOP) is similar to outpatient treatment but with a more rigid program. While you are in IOP, you gradually gain more independence as you complete different treatment phases and demonstrate improvement in your recovery. There is some flexibility with treatment in that you will go home every night. This type of treatment is ideal if you don't need 24-hour supervision and support at home.
Aftercare Programs: The Final Step in Your Recovery Journey
Aftercare programs are designed to help you transition back into your daily life without relapsing. You have a full support network that includes a sober living home, alumni programs, a support group, and continued therapy. Our program is designed to prevent the chance of relapse happening. When you are tempted to fall back into drug addiction, you can reach out to your support network.
Our sober living house provides the halfway point between addiction and recovery. It is a residential option where you can interact with others who are also on the road to recovery. As long as you follow house rules, you can stay at the residence while getting a job or working with your family to come back home.
Contact Our Drug Rehab Center at Oceanfront Recovery
If you are battling drug addiction, now is the time to get the help you need. To find out more about your treatment options, contact Oceanfront Recovery at (877) 296-7477. We offer a comprehensive drug addiction treatment program in Laguna Beach that can help you get back on your feet and say no to drugs for good. So reach out today.