Laguna Beach Transitional Addiction Treatment
Addiction is a chronic illness, in the sense that it can't be cured but must be managed and continuously treated for life. This might sound daunting — but in reality, all it takes is the proper coping mechanisms, healthy habits and a strong support system. Anyone can build this toolkit of addiction management techniques by attending a treatment program like the one we offer at Oceanfront Recovery; an aftercare program focused on long-term, sustainable and individualized recovery. You can have a longer-lasting recovery through our dedicated California addiction treatment programs.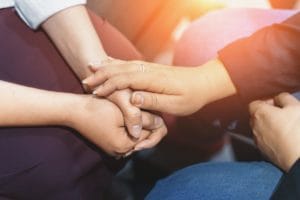 After primary treatment like a residential treatment program in Laguna Beach, individuals in recovery are just at the beginning of their journey. Leaving a residential program can be jarring as clients move from full schedules of round-the-clock care to living on their own without professional guidance. In too many cases, this sudden transition from full-time recovery treatment to independent life is too big of a step to take at once. In fact, one of the biggest challenges in recovery today is that of the "chronic relapser." This is the person who goes into treatment, perhaps even taking it seriously, gets clean and sober, stays clean and sober for a period of time, but then drinks or uses once again. A catalyst for relapse like this might be a lack of real-world practice of the skills learned in recovery; there is no time to troubleshoot or to find out what works in the long run and what doesn't.
Taking smaller steps between full-time treatment and independent life can help recovering addicts feel more confident in their lifelong purpose and their own abilities. At Oceanfront Recovery, we firmly believe that an effective and comprehensive aftercare program is essential for maintaining continuous sobriety.
Oceanfront Recovery Aftercare Program
Oceanfront Recovery offers a strong aftercare program for all of our clients, which is individually tailored to suit the client's schedule and treatment needs. The Oceanfront Recovery aftercare program is provided on an outpatient basis at our modern clinical facilities in Laguna Beach. This rehab aftercare program in Laguna Beach, CA is only provided after a client's primary treatment is completed.
Transitional treatment may include group therapy and individual therapeutic sessions. Our aftercare program can also help connect clients with community resources, such as 12-Step meetings, sober living houses, support groups, and therapists, that can further help them as they gain increasing independence. We also offer family-oriented support to help loved ones of an individual in recovery learn the best ways to keep the individual on track as they prepare to move back into their family home or to begin rebuilding family ties.
The same professional and caring staff members that helped the client to recover during intensive treatment will be in constant contact throughout this phase of recovery. In fact, retaining these trusting and positive therapeutic relationships is an important component of the transitional process. This, coupled with life skills, emotional stability, and work or school, is where recovery takes off. The primary treatment arrests the active addiction, while transitional treatment teaches clients how to stay sober, improve their quality of life and gain back independence all while they put what they learned in full-time treatment into practice.
Is the Aftercare Program Right for Me?
As long as you have completed residential and/or intensive outpatient program (IOP) in California with us, transitional treatment is an option. It may even be possible to enroll in our aftercare program if you have completed primary treatment elsewhere — you will need to contact our admissions team to find out whether your initial program meets the right criteria. Overall, however, anyone who is preparing to leave full-time treatment and return to everyday life can benefit from an aftercare program. You may also want to talk to your Oceanfront counselor to find out if they think you might be a good fit for the program. These are a few of the top reasons to consider participating in transitional treatment.
Accountability and Structure
When you leave behind the regularly-scheduled treatment, it's up to you to manage your own time and stay away from bad influences. You may have friends or family to help make sure you are staying on track, but eventually, you will be entirely responsible for your own actions. After being accustomed to a life of addiction for so long, a short time in residential treatment may not be enough to help you adjust your habits. A rehab aftercare program ensures that you have therapy built into your schedule and that you still have a professional team checking in on your whereabouts and your behavior.
Access to Top-Quality Staff and Continuity of Care
Your Oceanfront Recovery providers already know your background, your experience with addiction and your strengths and weaknesses. When you leave our programs, you may want to find a different therapist to keep up with counseling; however, starting over with a new provider is just one more change that can make this transitional phase feel unstable. We can help you get over the most significant hurdles of adjusting to individual life before you need to make this decision.
Adjust or Rework Long-term Coping Plans
As part of our residential and intensive outpatient programs, we work with each client individually to find out what kinds of hobbies, activities or therapies they feel drawn to pursuing as a healthy alternative to drugs or alcohol. Transitional treatment gives you a chance to evaluate whether you can maintain these long-term coping mechanisms outside of residential care, or whether you might want to try a different approach.
Extra Practice with Independent Life Skills
When you begin your new, sober life, you'll need to be prepared to care for yourself in ways you may have avoided or neglected before. From cooking to money management to personal hygiene, our programs teach our clients how to stay healthy and be responsible. Spending a few more weeks in an aftercare program helps you hone these skills and become more accustomed to them as you start to put them into practice.
Transitional treatment may continue for as long as the client requires the services and until he or she has an exceptionally solid foundation in recovery. Our goal in this phase, as it is throughout the process of treatment, is to break the cycle of addiction. We know from experience that it is possible to stop the "chronic relapse" for many of our clients, and the transitional component has been shown to be extremely effective in accomplishing this realistic goal.
Contact Oceanfront Recovery to plan your aftercare program with our specialists. Call (877) 279-1777 today to start you or your loved one's addiction recovery journey.