After completing a residential treatment program in Laguna Beach, many of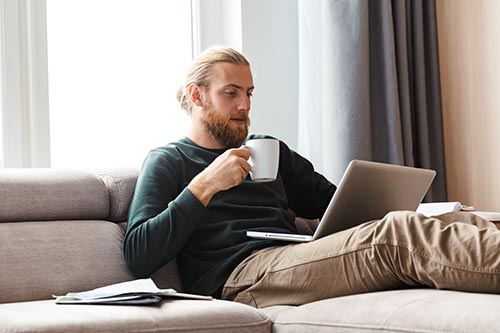 those in recovery choose to move to a sober living home, especially if they were living on their own before seeking treatment. At Oceanfront Recovery in Orange County, we are proud to provide two sober living homes in the Laguna Beach, CA area available to men & women who have completed our treatment programs. As you transition from full-time to part-time treatment through a rehab aftercare program in CA, it is important to stay focused on your recovery and avoid situations that might tempt you to relapse. Our sober living homes help you take this step by giving you a safe and substance-free place to live where you still have access to your Oceanfront Recovery aftercare program team and many of our other recovery resources.
Our Sober Living Facilities
Available sober living homes are throughout Orange County at different price points. Oceanfront Recovery currently has one location in Huntington Beach, chosen carefully to ensure that the next phase of your recovery is equally as fulfilling as your time under our roof.  Sober living homes give you access to work, meetings, and activities. You will also have convenient access to continued addiction treatment therapies in California. Before we partner with sober living communities, we hold them to the same standards of cleanliness, luxury, tranquility, and comfort as we do in our own treatment centers. But most importantly, we seek sober living partners with dedicated management and a high track record of success to ensure the quality of service and commitment that our clients deserve as they pursue their journey of recovery.
Our sober living partner facilities are fully furnished and modern, with amenities including parking spaces, in-house washers and dryers, full kitchens, and private or double bedrooms. The sober living homes have an on-site house manager and take up four apartments and an entire building. These facilities are your home as you transition back into an independent lifestyle, so they must be a place for you to decompress and relax.
What to Expect in a Sober Living Program
For some, completing an addiction treatment program isn't the end of the support they need to maintain sobriety and manage their condition. Addiction is a chronic disease. For some, this means there needs to be added support as they transition back to their everyday lives. Our sober living program makes this possible by offering a path where individuals can reassert their independence but know they have the structure and support necessary to encounter stressors or triggers early in their recovery. Some clients also need some added time to re-establish themselves in sobriety, meaning finding new living accommodations or work. Sober living makes this possible and minimizes social strains that can often derail recovery or put the individual at risk of relapse. In our sober living program, individuals can still take advantage of our therapies to help them continue to stay sober. For example, some of our therapies include:
Reach Out to Oceanfront Recovery Today
Your feelings of personal safety and well-being should never be compromised, which is why we specifically choose to partner with facilities in low-crime neighborhoods that have compassionate, watchful management. In addition, your first home after resident rehabilitation should help keep you on your pathway of recovery through a supportive and encouraging environment — we aim to partner with sober living homes that provide this for you as you leave our residential programs. At Oceanfront Recovery, we provide the full spectrum of care, including:
Individuals can enter any one of our programs as they need or progress through them. We also offer men's rehab and women's rehab program for those who feel gender-specific treatment would be the best course of action for their recovery. Contact Oceanfront Recovery to set up your sober living home after rehabilitation. Call (877) 279-1777 with any questions. Our experts are here for you!