Some men who struggle with substance use disorder find traditional, co-ed treatment to be a challenge. By working alongside their gender peers, these clients are more comfortable and able to do the work necessary to heal from the disease of addiction. What could a men's rehab program do for you? Admitting you have a drug or alcohol abuse problem isn't easy to do for anyone. Many men struggle with addiction and can benefit from our addiction treatment program here at Oceanfront Recovery.
When Should You Seek a Men's Rehab Program?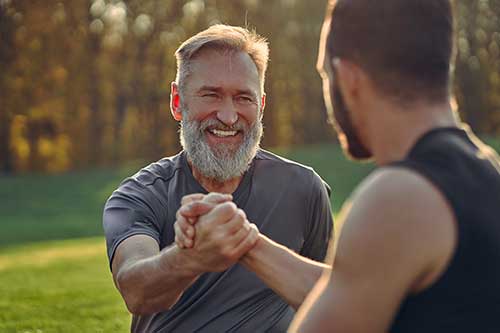 Deciding to seek help requires a lot of patience and determination. All you have to do is reach out, though. Take into reconsideration these questions. If they seem to fit your situation, now is the time to reach out for help.
Do you find yourself thinking about alcohol or drugs every day?
Have you missed appointments or family engagements because of your use?
Do you feel as though you have to have the substance?
Are you struggling with financial problems?
Do you struggle at work to stay focused?
Have you lost friends and family?
If any of these situations are occurring, reach out to our team at Oceanfront Recovery. Like any disease, addiction requires professional support to heal from. It's highly unlikely that an individual can recover on their own. Even individuals with a milder addiction frequently fail to heal without help.
What Can You Expect from Our Men's Rehab Center?
When you enter a men's rehab center, you can expect a few key things to happen. You'll learn more about what is happening to you and why. The brain changes when you use drugs and alcohol consistently. Our drug and alcohol detox center in Laguna Beach helps pave the way to a safe and healthy recovery. Working through withdrawal symptoms in a safe, comfortable environment lays the proper foundation for recovery. Our team of experts can monitor each client's health to ensure any medical complications that arise are immediately treated. This thorough form of detox sets up individuals for success.
During rehab, you'll learn:
More about yourself and why this happened
What you can do to manage stress daily
What triggers you to want to use
How to rebuild your life or make it better than ever
How to live with addiction
There's no cure for addiction, but there are highly effective methods for supporting your recovery, including addiction treatment therapy in Laguna Beach, CA. You can get back to doing the things you enjoy. The most important step is to realize you have the tools and resources available to you. These programs support you. They don't limit you in any way.
How Can You Get Started in Rehab Today?
When you are ready to see a change in your life, reach out to our men's rehab program. The first step is always to listen to you. We will discuss your health, provide a full physical, and develop a treatment plan to address your needs. We offer both residential and outpatient treatment programs to meet most needs. For those with a dependency, we may recommend our stand-alone detox program as well. Across all our treatment programs, we offer therapies like:
We also offer holistic treatment options to support your recovery. That includes yoga, Breathworks, and acupuncture. Treatment life can include improving relationships, rebuilding your confidence, and helping you to overcome addiction and enter on the path of long-term recovery. Explore the opportunities available to you with a center ready to support you.
Discover a Rehabilitation Program at Oceanfront Recovery to Support Your Future
If alcohol and drug abuse is taking over your life, make a change today. With support from our team at Oceanfront Recovery, you can enter into a men's rehab program that gives you the strength, skill, and knowledge you need to improve your future. Contact Oceanfront Recovery to learn more about how our compassionate counselors can help you in our men's rehab program in Laguna Beach, CA. Call (877) 279-1777 for an individualized rehab program.