When someone struggles with a substance use disorder, an addiction to drugs or alcohol, numerous treatment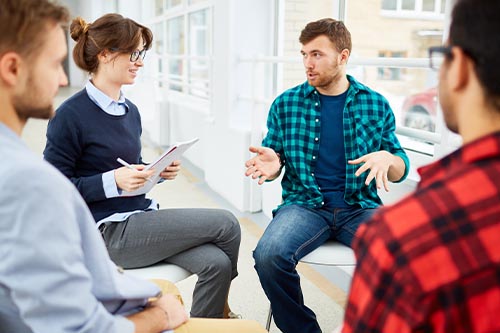 options are available. Perhaps one of the most effective methods is medication-assisted treatment or MAT. This is a form of addiction treatment where medical professionals and treatment specialists tightly administer medications designed to ease cravings and withdrawal symptoms. MAT allows individuals to manage the chronic disease of addiction as they work through therapies to help them identify, address, and overcome the issues contributing to and spring from their substance use disorder. However, the medications can sometimes lead individuals to develop a dependency upon them. At Oceanfront Recovery, we provide Suboxone rehab as part of our residential rehab addiction treatment to help those struggling.
Suboxone Addiction Rehab
There are many drugs to which people can become addicted. Suboxone is a synthetic opiate typically used to help people who are in recovery manage their withdrawal symptoms. However, a problem often occurs when people become dependent on the suboxone itself and will abuse it. Continued suboxone abuse can result in physical dependency. Suboxone dependency doesn't have to control your life through help from a suboxone addiction treatment center. Suboxone is related to Subutex, which we also provide treatment at the Subutex addiction treatment center in CA.
Since Suboxone is an opiate, an addict can experience potent physical cravings for the substance. The withdrawal will be painful, and it will be difficult for the addicted individual to function well without the drug. It is typically prescribed as an outpatient drug, so people may get into the habit of trying to acquire it from multiple physicians. As with any drug addiction, addicts may have difficulties in their lives due to the addiction, avoid people in their lives and become secretive about what they are doing.
At worst, suboxone abuse can cause death due to overdose or interactions between the suboxone and other substances. Opiates are a depressant and slow down breathing, as well as brain and motor functions. At the extreme, this can yield complications, such as respiratory failure and damage to the kidneys and liver. If you or a loved one is abusing suboxone, please get professional help from a suboxone addiction rehab center. If you or a loved one is suffering from addiction, our experts are ready to help through our substance abuse treatment programs in Laguna Beach, CA.
Suboxone Addiction Treatment Center
It can be difficult to withdraw from suboxone, as is the case with any opiate. Seek the help of a medical professional at a suboxone addiction treatment center in Laguna Beach, CA. Oceanfront Recovery will provide a comfortable and safe environment where you can stabilize your system. You will receive clinical care 24/7 while you are at the suboxone addiction treatment center. The staff will make it possible for you to go through rehab without being introduced to more drugs. For suboxone rehab in Orange County, they will develop a tailored treatment plan created uniquely for your success.
At Oceanfront Recovery, clients will go through a complete detox from suboxone and experience primary-level care in a supportive environment. Relationships will be formed with the professionals who work here, as well as peers. Multiple therapeutic approaches are used, including cognitive-behavioral therapy (CBT) programs in CA. Oceanfront Recovery is great for anyone looking for a suboxone addiction rehab center in Orange County. It will provide clients with the tools to stay clean after leaving treatment, so they are less susceptible to triggers that would tempt them to relapse and successfully reintegrate into society.
Reach Out to Oceanfront Recovery Today
If you or someone in your life needs a suboxone addiction treatment center in Laguna Beach, CA, Oceanfront Recovery wants to help. Contact us at any time, and we will tell you anything you want to know and do whatever we can to set you on the path to recovery. We offer substance abuse treatment for a number of addictions, including:
Call (877) 296-7477 and take the first step toward a sober and fulfilling life.