Cocaine is one of the most well-known illicit drugs. It can be one of the most destructive as well. The use of this drug has become popularized in pop culture, but it is a drug that can easily addict those who use it, leading to serious issues. At Oceanfront Recovery, our cocaine addiction treatment center is designed to be a welcoming space where individuals can come and get the help they need to heal. Contact us today at (877) 296-7477 for more information about our substance abuse treatment in Laguna Beach. We can help.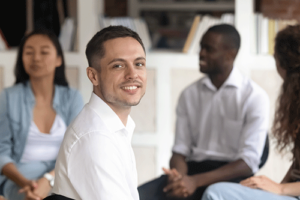 What Is Cocaine?
Cocaine is a stimulant that is first extracted from the coca plant and then refined into powder form. The drug is very potent and acts quickly, creating feelings of euphoria and inducing large bursts of energy for people who take it and a sense of competence and invincibility. An overdose of cocaine can result in hyperthermia, cardiac arrest, or even death.
If someone uses cocaine frequently, they may develop health issues over time as a result. These can include delusions, itching, heart problems, or akathisia (a chronic sense of restlessness). Long-term use can lead to kidney damage, stroke, and heart problems.
Psychological issues are common as well, and these can include lethargy, depression, and psychosis. Also, tissue in the lungs and nose can be damaged, as these parts of the body are directly involved in allowing cocaine into the system. When trying to overcome a cocaine dependency, the resulting withdrawal symptoms can be terrible and even dangerous. While the effects of cocaine are wearing off, users can experience paranoia, anxiety, and irritability.
Because withdrawal symptoms are arduous and often uncomfortable, cocaine users should consult medical professionals in the process to ensure safe detoxification.
Signs And Symptoms Of Cocaine Addiction
Someone struggling with cocaine addiction will exhibit tell-tale signs and symptoms. Recognizing these warning signs will help you identify when someone needs help. Signs and symptoms of cocaine addiction include:
New or worsening depression, anxiety, or paranoia
A sense of euphoric "high"
Mood swings, outbursts, and bizarre behaviors
Rushed, excited speech
Increased alertness and energy
Lying about drug use
Financial problems due to the expensive nature of addiction
Chronic runny nose
Delusions or hallucinations
Nasal passage damage
Leaving drug paraphernalia around
Isolating and becoming more secretive
Withdrawal symptoms when they can't use cocaine
A person struggling with cocaine addiction must get help immediately. Cocaine addiction can ruin a person's health and life, but support is available.
Benefits of Cocaine Addiction Treatment
A professional addiction treatment center can offer many bnefits that a person can't achieve when attempting to break addiction on their own. Entering treatment for addiction is the best and safest option, ensuring you are monitored and supported every step of the way. Medical detox prior to rehab has been shown to boost recovery success rates and help prevent relapse. Some of the most significant benefits of enrolling in a cocaine addiction treatment program include:
Access to 24/7 support and care
Safe and supervised medical detox
Individual and group therapy
Holistic treatment options
Resources and educational programs
Aftercare programs
An addiction treatment center like Oceanfront Recovery can help you get back on track. All you have to do is take the first step and reach out.
How Oceanfront Recovery's Cocaine Addiction Treatment Center Can Help
For cocaine rehab in Laguna Beach, California, turn to the professionals at Oceanfront Recovery's cocaine addiction treatment center. The Oceanfront Recovery staff will develop an addiction treatment plan tailored to you, taking into account your individual needs and history, personal circumstances, and any mental disorders that may be involved. Our dual diagnosis program will be able to address these in tandem.
The cocaine addiction treatment center provides a comfortable and peaceful setting along the coastline of the beautiful Laguna Beach area. We find that the serene setting is often therapeutic on its own for our clients due to the beautiful scenery and our client's ability to engage in relaxing and exciting activities while situated so close to the ocean. Clients are taught to cope with relapse triggers and retrain their brains at our facility to live sober and happy lives.
The therapists at cocaine addiction rehab centers are committed to treating each and every client and returning them to sobriety. They will incorporate a variety of cocaine treatment approaches to help each individual. Our cocaine addiction treatment center first helps clients through detox and then works alongside them to design the best treatment plan possible to meet their needs. Some of the therapies we offer include:
Break Cocaine Addiction at Oceanfront Recovery
If you or a loved one struggles with cocaine addiction, please fill out Oceanfront Recovery's online form or contact us at (877) 296-7477. The professionals at our cocaine addiction treatment center are committed to helping you overcome your addiction. We will challenge you to restore your mind and body to live your life free of drugs. If you have any questions, please contact our cocaine addiction rehab center to learn more.