Over the last few years, several states have begun the process of decriminalizing or legalizing marijuana. While this process has begun with much popular support, there are still public health issues surrounding marijuana use. While not physically addictive, marijuana abuse can lead to psychological addiction and cause noticeable withdrawal symptoms. Withdrawal from daily or regular use of marijuana does not produce physical symptoms as severe as withdrawal from opiates or meth. Still, sleeplessness, irritability, depression, and anxiety all accompany marijuana withdrawal, making it a serious problem without help from a marijuana addiction treatment center. At Oceanfront Recovery, our Laguna Beach drug and alcohol detox center makes withdrawal more comfortable and provides the start you need to control your life.
Rehab and Marijuana Addiction Treatment Center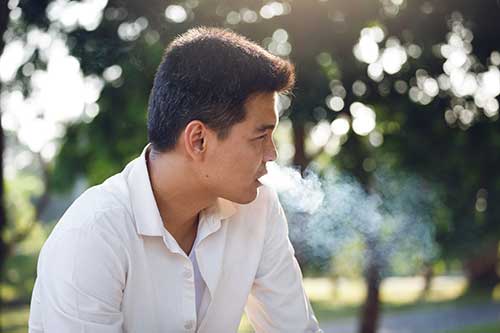 The psychological impact of marijuana abuse is equally serious. Withdrawal can include symptoms and behaviors like pulling away from people or society in general, paranoia, inability to concentrate, and diminished ambition and productivity can and do occur from marijuana abuse. This complex and often multi-faceted addiction is best handled in a specialized marijuana addiction rehab center. When it comes to marijuana abuse, individuals usually have a co-occurring mental health disorder like an anxiety disorder or a depressive disorder. Both of these mental health conditions affect millions of Americans every year, regardless of whether they have a substance use disorder. However, marijuana abuse raises the risk of developing these conditions. When this happens, individuals need professional support to regain their mental health and address their marijuana abuse.
Oceanfront Recovery in Laguna Beach provides a marijuana addiction treatment center in Orange County with knowledge, compassion, and support. The dual diagnosis treatment program in California will be available to you to treat both mental health issues and drug addiction.
Our Approach to Marijuana Addiction Treatment
At our drug addiction treatment center, we know breaking free from marijuana addiction is only the first step in learning how to remain free after rehab has ended. A holistic approach is utilized, where patients attend educational seminars, group sessions, and individual therapy sessions. Exercise and healthy nutrition are also parts of our marijuana addiction treatment center, as well as mindfulness, meditation, and acupuncture treatments.
At our comprehensive marijuana addiction treatment center in Laguna Beach, California, our experienced and compassionate marijuana rehab staff helps the user through the physical withdrawal symptoms and learn a whole new way of looking at life. Individualized treatment plans are designed for the specific needs of each patient. And the psychological problems that often accompany marijuana abuse are identified and appropriately treated at the marijuana addiction rehab center so the patient can begin to learn – or relearn – the life skills that will allow them to feel pleasure, fulfillment, and accomplishment in life without dependence.
Learn More About Oceanfront Recovery's Substance Abuse Treatment Programs
Oceanfront Recovery strives to treat all the psychological, physical, and spiritual needs of the person starting the recovery journey. Our whole-person approach is aimed at making sure the patient completing the program is equipped with all the information and skills he or she will need to remain sober after leaving the treatment center and will be able to lead a productive and happy life – a life truly free from the prison of addiction. Our marijuana addiction treatment program is just one of the substance abuse treatment programs we offer. No matter what substance use disorder you or a loved one is struggling with, we can help. Some of our programs include:
Contact Oceanfront Recovery today for a compassionate and longer-lasting recovery for you or a loved one at our marijuana addiction treatment center in Laguna Beach, California. You can take control of your life by calling (877) 296-7477.