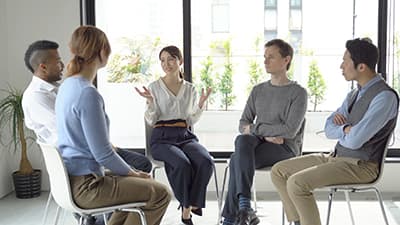 Addiction can destroy every area of your life, including your health, family, career, finances, friendships, and reputation. Is it worth it? If it's time for a change, then contact Oceanfront Recovery. Our Newport Beach alcohol rehab center has everything you need to get clean and stay clean for life. Regardless of how severe your addiction is, you can recover and say no to substance abuse for good.
We offer a comprehensive treatment plan that includes detox, rehab, and aftercare. You can choose from our residential or outpatient treatment program. Both avenues to recovery give you access to evidence-based treatment, holistic therapy, aftercare, and our facilities. Make the change now and call Oceanfront Recovery today. We have room for you at our Newport Beach Alcohol rehab center.
We offer treatment for every level of addiction. No matter where you are on the addiction scale, we offer treatment that matches your needs and helps you achieve your recovery goals.
Residential and Outpatient Care
If you cannot manage your addiction and need 24/7 supervision, we recommend our residential addiction treatment program. You get round-the-clock care at our oceanfront facility. However, if you can manage your addiction but need some therapy to help you put down drugs or alcohol, outpatient care may be a better option for you. We can perform a thorough assessment of your condition to determine your needs.
Dual Diagnosis for Co-Occurring Disorders
A mental health disorder may have triggered your addiction. Likewise, your addiction may have led to a mental health disorder. Mental health issues and addiction combined are known as co-occurring disorders. We offer dual diagnosis as a way of identifying and treating your condition. We help you explore the underlying causes of your addiction so that you can get the right treatment.
Evidence-Based Treatment
We use evidence-based treatment (EBT) as a primary form of care for all types of addiction. EBT may include:
Psychotherapy
Cognitive-behavioral therapy
Dialectical behavior therapy
EMDR
Acceptance and commitment therapy
Motivational interviewing
Evidence-based treatment is a scientific approach grounded in research and client observation. We utilize EBT methods that are proven to help you at every stage of recovery and avoid relapse.
Aftercare Programs
Our aftercare program is designed to help you transition back into your daily life without relapse. We provide a support network that includes continued therapy, support groups, sober living houses, and alumni programs. With the right support network in place, you have several options for getting help when you are tempted to relapse.
Family Therapy
Addiction doesn't just affect you. It affects everyone in your family at different levels. Our alcoholism treatment program can help each member of your family cope with the fallout from addiction. We can meet with your entire family in both group and individual settings. You can work together to find solutions and bring peace to your home once again.
How to Get Started with Your Alcoholism Treatment
Our alcohol rehab center at Newport Beach takes you through each stage of recovery. You'll begin by going through detox. This initial stage allows you to flush the toxins out of your system while your body heals. Your next step after detox is rehab. During this stage, you will participate in different addiction therapy and activities over several weeks.
When you complete your rehab, you'll be ready for aftercare and continued support. Our goal is to help you regain your independence with a free life from alcohol or drug addiction.
Contact the Alcohol Rehab Center at Oceanfront Recovery
Are you ready to get clean for life? If so, contact Oceanfront Recovery. We have everything you need to start with your recovery at our alcohol rehab center in Newport Beach. Call Oceanfront Recovery today at (877) 296-7477 to get started with your alcoholism treatment program.