Substance use disorders and mental illness affect people of all backgrounds, from homeless individuals to blue-collar workers, to high-level executives, and other professionals.
The highly-qualified staff at Oceanfront Recovery understands that some professionals likely fear that they are among just a few professionals that struggle with addiction. This is a myth about professionals with a substance use disorder.
Learn how you or your professional loved one can receive help through an ideal treatment program in a co-ed professionals program setting.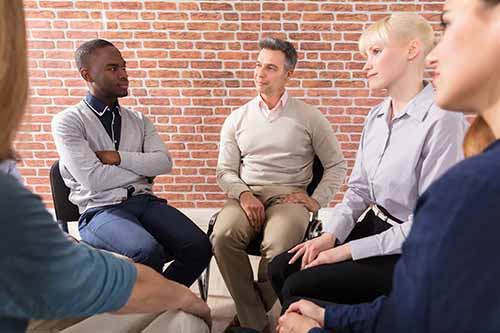 Substance Use Disorders Among Professionals
When a person that works in a professional career has a substance use issue or is addicted to more than one drug, the person sometimes tries to hide the addiction. Do you feel that you are alone and that most of your peers do not have a drug addiction?
An article published by Psychology Today lists the fact that 77 percent of illicit drug users work at a full-time job. The article addresses substance abuse among attorneys in the U.S. It reveals that attorneys are nearly twice as likely to use illicit drugs, when compared to the rest of the population.
Similarly, many professionals that work in the healthcare industry abuse drugs, often putting patients at risk. A USA Today contributor described tactics that doctors and other healthcare professionals use to get drugs. The article also indicates that an estimated 100,000 people working in the healthcare industry abuse drugs such as alcohol, fentanyl, and oxycodone.
Other industries where addiction is common among professionals include:
Construction and mining industries
Food service industry
Manufacturing and warehousing professions
Public administration and other government professions
Insurance and finance industries
Professionals also have high levels of substance use disorders in the entertainment industry, transportation, utilities, and in retail.
The experienced team at Oceanfront Recovery welcomes professionals into treatment. We realize that working as co-ed professionals is important in most industries.
Consequences of Substance Use Among Professionals
There are risks to anyone that abuses alcohol or other drugs. This is particularly true of professionals that have a substance abuse issue.
Some critical risks of professionals in need of substance abuse treatment include:
Administering the wrong medication to a patient or stealing patient medications
Development or exacerbation of a co-occurring mental health disorder
Making courtroom mistakes that affects the outcome of a court case
Making mistakes that puts the safety or life of yourself or your co-workers at risk
When professionals and executives need
help for their substance abuse
, Oceanfront Recovery offers a discreet program for co-ed professionals, in a tranquil environment. The program allows you to recover away from home where you do not have to fear that clients, employees, patients, or co-workers may recognize you.
The program addresses the unique needs of professionals that cannot commit to long-term inpatient programs because doing so possibly jeopardizes their employment. Therapy topics are sometimes geared towards the lifestyle of professionals. Whether you are a manager, a business owner, or a VIP at a major company, we understand that some aspects associated with the treatment needs for professionals potentially differ from some needs of other people in need of treatment.
Receive Your Treatment at a C
o-Ed Professionals Program
Oceanfront Recovery staff have the expertise to develop a treatment program uniquely created to your needs as a busy professional.
Receive your treatment in an upscale co-ed program house, or an outpatient program if necessary. We recommend residential services, and are prepared to offer you a safe, modern, stress-free treatment environment. We focus on evidence-based therapies, and customize your treatment to potentially include:
Your co-ed professionals program possibly includes other treatment, based on your individualized needs. Contact us today at (877) 296-7477, and start on your path to recovery for professionals.