Hydrocodone is an opiate used to treat severe pain. It's highly addictive and should, therefore, only be taken when absolutely necessary. If you or someone you know has developed a dependency on hydrocodone, admission into our opiate addiction treatment center in Laguna Beach, Ca, is the first step towards making a lasting recovery from hydrocodone. 
Inpatient Treatment for Hydrocodone Addiction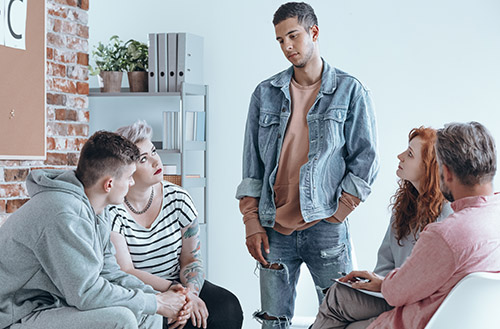 Our residential treatment program provides the most effective option for individuals due to the structure, supervision, and immersion available. It allows you to focus on your recovery entirely by providing comprehensive addiction treatment. The following addiction treatment therapy programs are commonly used to treat hydrocodone addiction :
You will also learn the importance of nutrition and learn skills that help you cope with the pressures and temptation of using alcohol and drugs. Medical care for emergencies and for treatment of diabetes, hypertension, seizures, ADHD, PTSD, or depression.
Outpatient Hydrocodone Addiction Treatment 
For patients undergoing outpatient hydrocodone addiction treatment, you would come to our facility a set number of hours on certain days of the week. This program addresses the needs of those with children and jobs who also need rehab services. At our outpatient hydrocodone addiction treatment, you attend one-on-one counseling. Additionally, you take part in group therapy and other activities that focus on recovery.
Because you leave the rehab facility, you have a higher risk of relapse. However, support groups, medical assistance, and individual sessions teach you valuable coping skills to resist the urge to use.
Hydrocodone Addiction Treatment Center Medications
As part of the detox and to wean you off hydrocodone, other medications may form a part of your rehabilitation. Following, we discuss some of the medications used in our hydrocodone addiction treatment center in Laguna Beach, CA.
Methadone
Methadone is an opioid that helps people safely recover from hydrocodone abuse. It blocks pain signals but also prevents the euphoria that comes with using stronger opioids. You take it in liquid, pill, or wafer form once a day. However, it's only available at centers, such as Oceanfront Recovery, approved by  Substance Abuse and Mental Health Services Administration (SAMHSA).
Buprenorphine
Buprenorphine is another opioid used in substance use disorder treatment. It's a partial agonist that imitates the effect of hydrocodone. After a certain point, taking more doesn't have a stronger effect. Typically, you take it as a tablet placed under the tongue.
During recovery, you take buprenorphine 3-7 times weekly. You can use it during detox and long-term treatment. It's marketed under numerous brand names, including:
Subutex

Suboxone

Zubsolv

Sublocade
Naltrexone
Naltrexone blocks opiates and often forms an essential part of long-term recovery. It effectively treats opioids and alcohol dependencies. It comes in a pill or injectable form. Because it entirely blocks opioid receptors, naltrexone prevents a user from getting high. In theory, this translates to a decreased desire for hydrocodone.
Naltrexone treatment only works if you're completely dedicated to recovery. It's up to you to take the pill every day or get the injection each month.
Contact Oceanfront Recovery in Laguna Beach, CA
Going through detox and rehab for any drug takes dedication and a supportive team surrounding you. You can find caring counseling and other staff dedicated to your recovery at Oceanfront Recovery. Don't let another moment pass. Contact Oceanfront Recovery at 877.279.1777 to make a lasting recovery from hydrocodone.