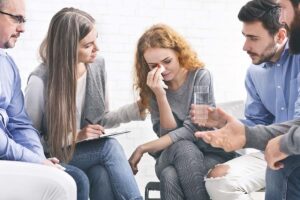 Each year in the United States, an average of 70,000 deaths involve synthetic opioids. Fentanyl is the most powerful of these opioids and makes up most of these fatalities. If you have a fentanyl addiction, turn to a center like Oceanfront Recovery that offers substance abuse treatment in California. Call (877) 296-7477 to begin your journey to recovery. Our evidence-based and holistic approach will help you overcome your addiction in a safe, picturesque environment. We are a small boutique provider that provides individualized treatment just blocks from the serene blue waters of the Pacific Ocean. 
Understanding Fentanyl Addiction
Fentanyl is an opioid that is 50 times stronger than heroin. Doctors prescribe it for people who have chronic pain that does not respond well to other opioids, but more often these days, it is produced and used illegally.  
Like other opioids, fentanyl binds with the opioid receptors in your body, affecting the areas of your brain that control breathing, emotions, and pain. Because it is so potent, dependence on the drug can happen quickly.  
Common signs and symptoms of a fentanyl addiction include: 
Anxiety

 

Needing to use more of the drug

 

Depression

 

Euphoria

 

Slowed breathing

 
Nausea

 

Vomiting

 

Severe cravings

 

Changes in eating and sleeping habits

 

Slowed breathing

 
Confusion

 

Difficulty breathing

 
Although anyone can develop an addiction to fentanyl, some factors can increase your chances of experiencing an addiction. Environment plays a big role—those who have easy access to drugs or those who live with others who have active addictions are more at risk.  
Experiencing trauma and having mental health conditions can also make addiction more likely. 
If you have a fentanyl addiction, rehab offers the best chance at recovery. But what is fentanyl rehab? 
What Is Fentanyl Rehab?
We offer various fentanyl rehab options, beginning with the detoxification process.  
Before you can dig into the cause of the addiction, you have to physically and mentally stabilize and remove all traces of the drug from your body. With a drug as powerful as fentanyl, you need supervision to go through this process.  
Detox Services
We offer medical detox services that monitor you 24/7, keeping you comfortable and helping you avoid the worst withdrawal symptoms. These medications can also prevent extreme cravings that can lead to relapse.  
Residential Treatment
This intensive level of care allows us to monitor you as you begin your recovery and allows you to step away from your regular life. By immersing yourself in treatment, you can give yourself the chance to understand what behavioral changes you need to make to start healing.  
Therapy Sessions
At our fentanyl rehab program, we provide individual therapy sessions that use behavioral therapies. We also help you understand that you are not alone as you face addiction—you'll have group therapy sessions where you can meet others at different stages of the recovery process.  
Because we know that addiction can affect everyone in your life, we also provide family counseling sessions.  
Mental Health Treatment
If you have co-occurring mental health conditions, we treat these concerns simultaneously as addiction. Mental health concerns can make addiction worse, leading you to use fentanyl or other substances to alleviate symptoms.  
On a case-by-case basis, we also offer outpatient programs like partial hospitalization programs, intensive outpatient programs, and standard outpatient programs.  
Get Help With Fentanyl Rehab at Oceanfront Recovery
A fentanyl rehab program can end up saving your life. Fentanyl is a powerful substance that causes increasing numbers of deaths each year, but you can break free from addiction with a bit of help.  
Oceanfront Recovery has teams of experts ready to help you find your sobriety once more. By keeping treatment groups small and offering the individualized attention each client needs, we provide the help you can depend on. Get started by calling Oceanfront Recovery today at (877) 296-7477.